There's no other way to say it – Cristiano Ronaldo is a lean, mean, goalscoring machine! The Real Madrid superstar is so famous that there is probably nobody on this planet who has kicked a football who doesn't know his name.
Since he shot to fame during his time with both Manchester United and Real Madrid, the Portuguese forward has broken records aplenty. Be it in the English Premier League, La Liga, the Champions League or the international arena, no record book is complete without his name next to a few phenomenal numbers.
We look at five such records that will stand the test of time.
Note: Stats updated as of 7 January 2016
#1# Top goalscorer for Real Madrid
He came, he saw and he conquered! Ronaldo arrived at Real Madrid in the summer of 2009 for what was then a world record transfer fee of £80m from Manchester United. Since then, he has plundered the Liga, Champions League and other cup competitions to increase his personal tally to astronomical heights.
In 2009, Raul was the undisputed top goalscorer with 323 goals to his name in 741 matches – a ratio of 0.44 goals per game. Ronaldo achieved the feat in less than half the games played by the Spanish club legend.
Ronaldo not only broke the mark, but he has managed to surpass it since then to take his tally to an unbelievable, and probably unmatchable, 338 goals at a ratio of more than 1 goal per game!
"I'm very happy, this is a special moment," Ronaldo had said when he was honoured by the club after breaking the record. "I'd like to thank my team-mates for helping me reach this number.
"Breaking this record at the best club in the world is a real honour for me."
| # | PLAYER | SEASONS | GOALS | GAMES | RATIO |
| --- | --- | --- | --- | --- | --- |
| 1 | Cristiano Ronaldo | 7* | 338 | 324 | 1.04 |
| 2 | Raul | 16 | 323 | 741 | 0.44 |
| 3 | Alfredo Di Stefano | 11 | 308 | 396 | 0.78 |
| 4 | Carlos Santillana | 17 | 289 | 645 | 0.45 |
| 5 | Ferenc Puskas | 8 | 242 | 262 | 0.92 |
*Ronaldo is currently in his seventh season with Real Madrid
#2# Most consecutive appearances in the UEFA Team of the Year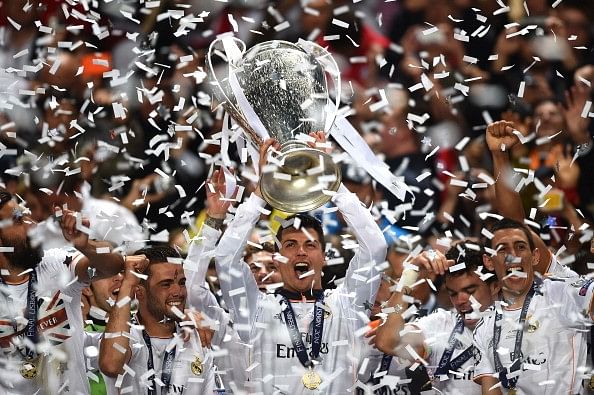 Ronaldo has won the Champions League with both Manchester United (2007/08) and Real Madrid (2013/14). But he has impressed enough in every Champions League campaign since 2007 to get elected into the UEFA Team of the Year – a team where players are selected based on their performances for both club and country in UEFA competitions.
Ronaldo first made the team in 2004 where he led Portugal to the Euro 2004 final. He was elected to the team of the tournament and that played a factor in his selection as he announced himself to the world, ready to take over the mantle from an ageing Luis Figo.
In all, the Portuguese forward has made the team nine times. His closest competitor is Lionel Messi with six. Iker Casillas is also on six but his departure to Porto may not help him get the votes ahead of other goalkeepers such as Manuel Neuer, who has made it to the team in the past two years.
What's more, he is the only player to be selected into the team for eight consecutive seasons. Messi lost out when he failed to get into the team of the year for 2013 – the season Barcelona failed to win any major trophy. Messi may surpass Ronaldo in the future provided he is fit. But whether he can get as many consecutive nominations is up for debate.
| # | PLAYER | CLUB(S) | APPEARANCES |
| --- | --- | --- | --- |
| 1 | Cristiano Ronaldo | Man Utd & Real Madrid | 9 |
| 2 | Lionel Messi | Barcelona | 6 |
| | Iker Casillas | Real Madrid | 6 |
| | Carles Puyol | Barcelona | 6 |
| 5 | Thierry Henry | Arsenal | 5 |
| | Xavi | Barcelona | 5 |
| | Philipp Lahm | Bayern Munich | 5 |
#3# Most consecutive seasons with 50+ goals scored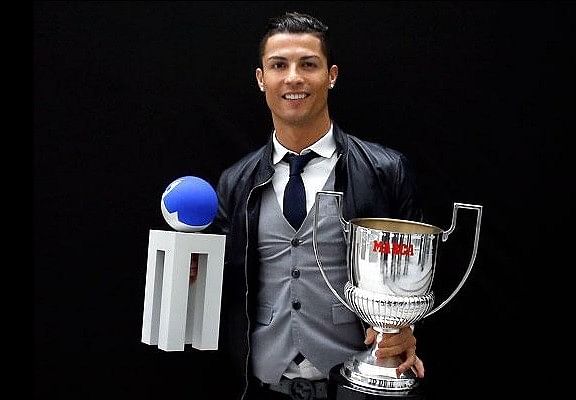 This is a record that only one other player can even attempt to match at the moment – his biggest Ballon d'Or rival – Lionel Messi. Since Ronaldo's move to Real Madrid, goals have never been tough for the Portuguese star to come by. He scored 33 goals in all competitions in his first season with Los Blancos, taking no time to adapt to a new league – a problem common with many footballers, even those considered world class.
But it wasn't until his second season when he started scoring for fun. Perhaps the fact that he inherited the no.7 shirt after Raul left for Schalke proved to be a decisive factor. Now in his preferred number, the beast inside Ronaldo was unleashed and the team was built around his remarkable goalscoring exploits.
Between 2010/11 to 2014/15, Ronaldo would score 280 goals at an average of 56 goals a season. His lowest tally was 51 in 2013/14 and his highest was 61 goals in 2014/15! He also looks all set to score 50 goals again this season, having scored 25 so far at the halfway mark.
While Messi may have scored more goals in a season (73 goals in 2011/12), the Argentine magician only managed 41 goals in 2013/14. Else he would be sharing the record with Ronaldo.
Nobody has come even close to scoring 50 goals a season, let alone five, in recent years.
| | Cristiano Ronaldo | Lionel Messi |
| --- | --- | --- |
| 2010/11 | 53 | 53 |
| 2011/12 | 60 | 73 |
| 2012/13 | 55 | 60 |
| 2013/14 | 51 | 41 |
| 2014/15 | 61 | 58 |
| 2015/16 | 25 | 13 |
#4# Most European Golden Shoe awards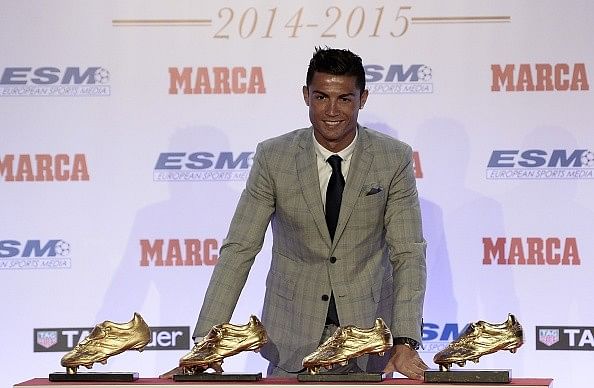 The European Golden Shoe an annual award that is awarded to the player who has scored the most number of goals (in league matches only) in a top European league in a single season. The award is structured such that lesser leagues in smaller countries cannot have players running away with the award if a player scores more goals than those who play in tougher leagues.
Hence, different leagues are given different weightages based on the country's UEFA coefficients. Therefore, it comes as no surprise that goals scored in leagues such as La Liga, the Premier League, Bundesliga, Serie A and Ligue 1 carry more weightage than those scored in other leagues.
So far, Ronaldo has won the award a record four times – once with Manchester United (2007/08) and three times with Real Madrid (2010/11, 2013/14 and 2014/15). He had to share the award in 2013/14 with Luis Suarez who almost took Liverpool to their first ever Premier League title with 31 goals that season.
Lionel Messi is again his closest competitor and has won it three times – one less than Ronaldo. But a knee injury this season has seen the Argentine's playing time limited and he has scored only 6 goals so far. Meanwhile, Ronaldo has scored 14 goals this season in La Liga (one behind league leader Luis Suarez) and could easily win the Pichichi again. But will he score enough to topple the likes of Pierre-Emerick Aubameyang, Gonzalo Higuain, Robert Lewandowski and many others?
Messi may also break the record in the future. But now that the onus of scoring is shared between Messi, Suarez and Neymar (MSN), will the goals be shared between the trio in seasons to come or will he reign supreme?
| PLAYER | CLUB(S) | AWARDS | SEASONS |
| --- | --- | --- | --- |
| Cristiano Ronaldo | Man Utd & Real Madrid | 4 | 2007/08, 2010/11, 2013/14, 2014/15 |
| Lionel Messi | Barcelona | 3 | 2009/10, 2011/12, 2012/13 |
Eight other players have won the award twice stretching back to 1967/68 when the award was first instituted
#5# Highest goalscorer for Portugal

.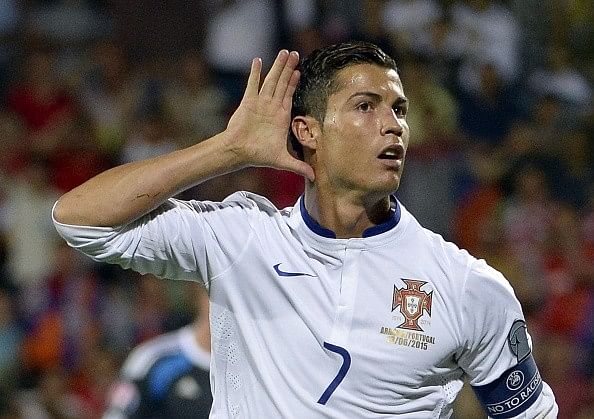 Cristiano Ronaldo made his debut for Portugal in 2003. But since 2003, he has scored at least one goal every calendar year, his highest being 10 goals in 2013 – the year his hat-trick dramatically helped Portugal qualify for the 2014 World Cup in a playoff with Sweden. He had scored four crucial goals across the two legs.
Portugal is not a country with a rich tradition of winning international trophies like the other European heavyweights such as Germany and Spain. Their best finish in the FIFA World Cup was third (1966) and their best finish in UEFA Euro was the runners-up medal after losing to Greece in 2004 – the year they hosted the Euro. In fact, it wasn't until the new millennium that they started qualifying regularly for all international tournaments.
With that in mind, Ronaldo has done well on an individual front on the international stage despite not having the supporting cast – a problem he has shared with Lionel Messi until recently when Argentina reached two major finals (2014 World Cup and 2015 Copa America).
The Portuguese star is the only player to have scored more than 50 goals. The next best active player is Helder Postiga who only has half of Ronaldo's tally and his international career is pretty much over.
| # | PLAYER | GOALS | APPEARANCES |
| --- | --- | --- | --- |
| 1 | Cristiano Ronaldo | 55 | 123 |
| 2 | Pauleta | 47 | 88 |
| 3 | Eusebio | 41 | 64 |
| 4 | Luis Figo | 32 | 127 |
| 5 | Nuno Gomes | 29 | 79 |
| 6 | Helder Postiga | 27 | 71 |